ABOUT US
If you are reading this page so you want to know about us.
We live in Moscow, Russia, in the wonderful district "Cheremushky". If you have ever been to our district you'll never forget it. It's a really beautiful place with a lot of green trees, flowers, parks and gardens. There is very comfortable and silent there. I was born in a usual Russian family with simple principles to love relatives, to respect parents, to help friends. The God is always in our souls, business and actions. We like holidays and we suffer a loss very hard. Our flat is rather small but we always glad to see our friends at our place. We are very hospitable people.




I was lucky because my good parents let me to have animals at home. I always have fish, birds, cats, dogs, rabbits and other animals at home. And at the age of nine I decided infavour of dogs. I always was sure that dogs were the cleverest, devoted, unselfish and noble animals.
Being young I thought that mongrel was a capable of great endurance, that it was a clever and modest dog. But practice proves other things.


A huge white mongrel Belka couldn't endure "plague" (чума), but a nice mongrel Chapa could do it and died from poison for rats. A pure-bred Sheep-dog Don had a nice long life without illness and his precursor Labrador Jarry (which was taken from torturers) had a very bad habit to eat everythig out-of-doors. And he had never had any problems with his stomach. I thought he could even eat nails and would enjoy it.



I had dogs for many years and I had a great experience in training and cearing dogs. But I could take a puppy of Caucasus sheep-dog only at a mature age. It is one of the most complicated breeds among dogs. I love all breeds. I know almost all merits and demerits in any breed. But I show preference to big dogs because of their endurance, independence and restraint. So there were only big dogs in my house last 15 years. I also liked small dogs but I looked at them without interest. I thought that small dogs were only for love, friendship and beauty.


But one day a small, beautifull creation with a strange name Lhasa Apso appeared in my house. I was sure that order, silence and calmness in our house would destroy. I pictured her barking without any cause, jumping, bothering with me or with the members of my family. Imagine my astonishment when I realized that this small dog behaved herself as my clever Caucausus sheep-dog and phlegmatic Chow-chow.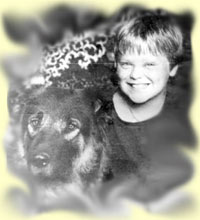 So my fear was for nothing. This dog is very calm, easy-tempered, composed, self-confident, independent and majestic. For all that this dog is very devoted to her owner and t won my heart of. And I understand why some people call this dog "a big dog in a small packing". And I have indulge in this breed for ten years.